UHMW SPIRAL CHUTES
Transferring product and materials from one level to another in a controlled and safe manner is a common requirement within material handling, logistics, and numerous other commercial settings. Gravity-powered spiral chutes offer a compact and economical solution for a variety of use cases, ensuring product won't get damaged or jammed when transferred from a mezzanine, conveyor, platform, or other elevated position.
Request a Quote Today
Click to Download UHMW Spiral Chute Flyer
Proos' innovative UHMW Spiral Chutes offer a customizable solution optimized for your deployment. The modular design is adaptable to a variety of use cases including variable dimensions, multiple inducts, and configurable discharge options. Transition surfaces are non-magnetic to accommodate a broad range of content. The UHMW composition provides a durable, low friction, and abrasion resistance surface to ensure reliable product flow, even at low self-starting angles.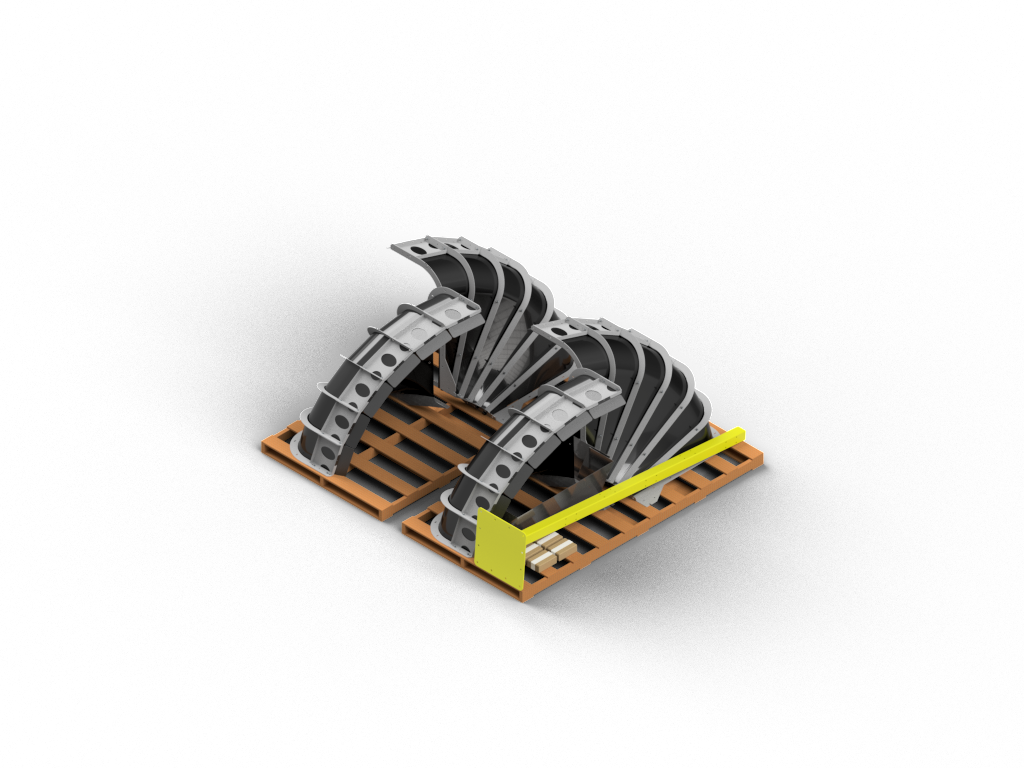 Kitted Shipping
Proos UHMW Spiral Chutes are custom kitted into multiple pre-assembled sections to be easily shipped and quickly installed anywhere. Each kit contains all the necessary components, parts, and work instructions for accurate, repeatable on-site chute assembly using minimal, common tools.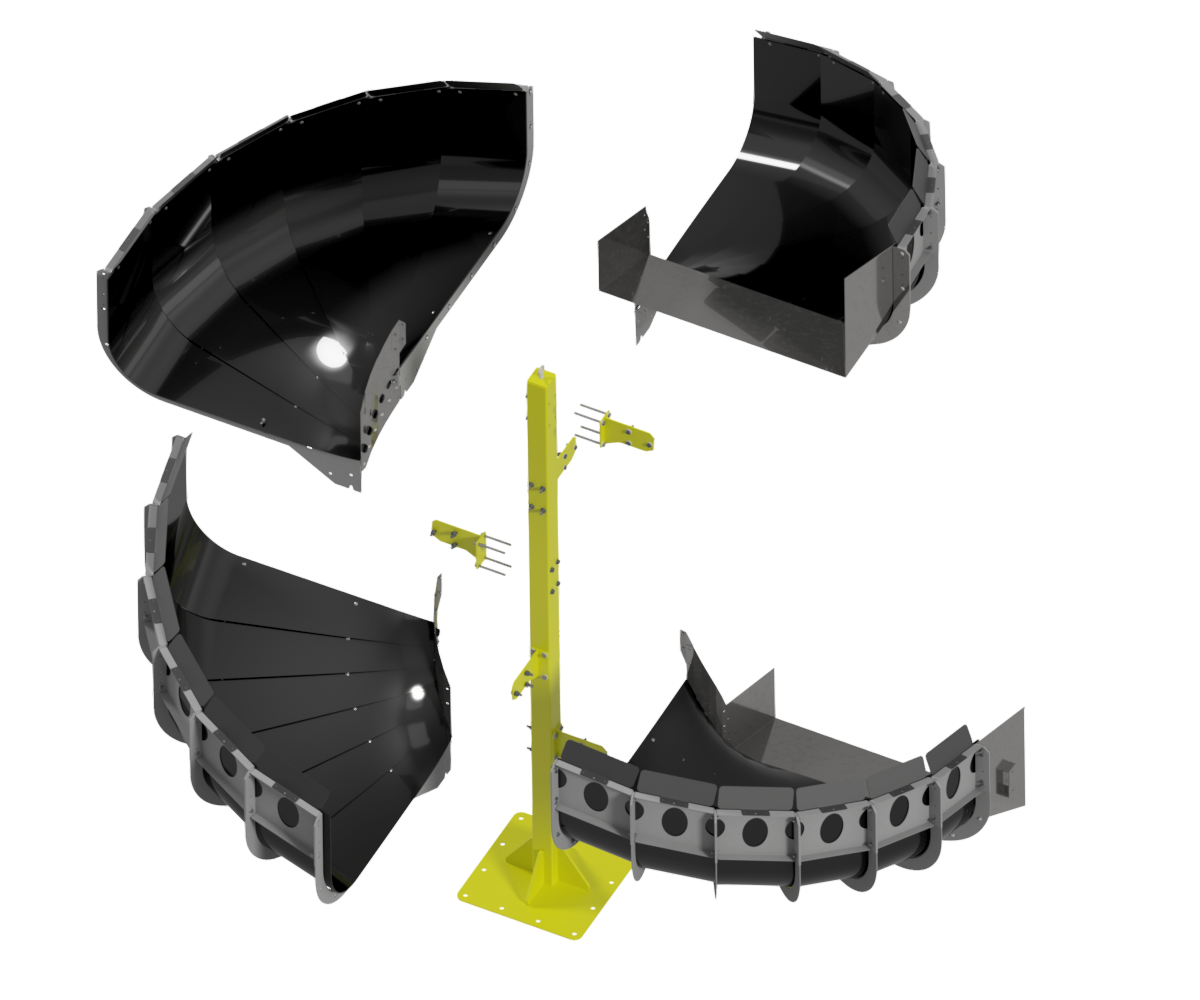 Simplified Assembly
Every Proos solution is intentionally designed for rapid and repeatable on-site assembly. All UHMW Spiral Chutes are shipped in pre-assembled and can be adapted to any application by modifying the number of chute sections according to your field requirements. See assembly video demo below.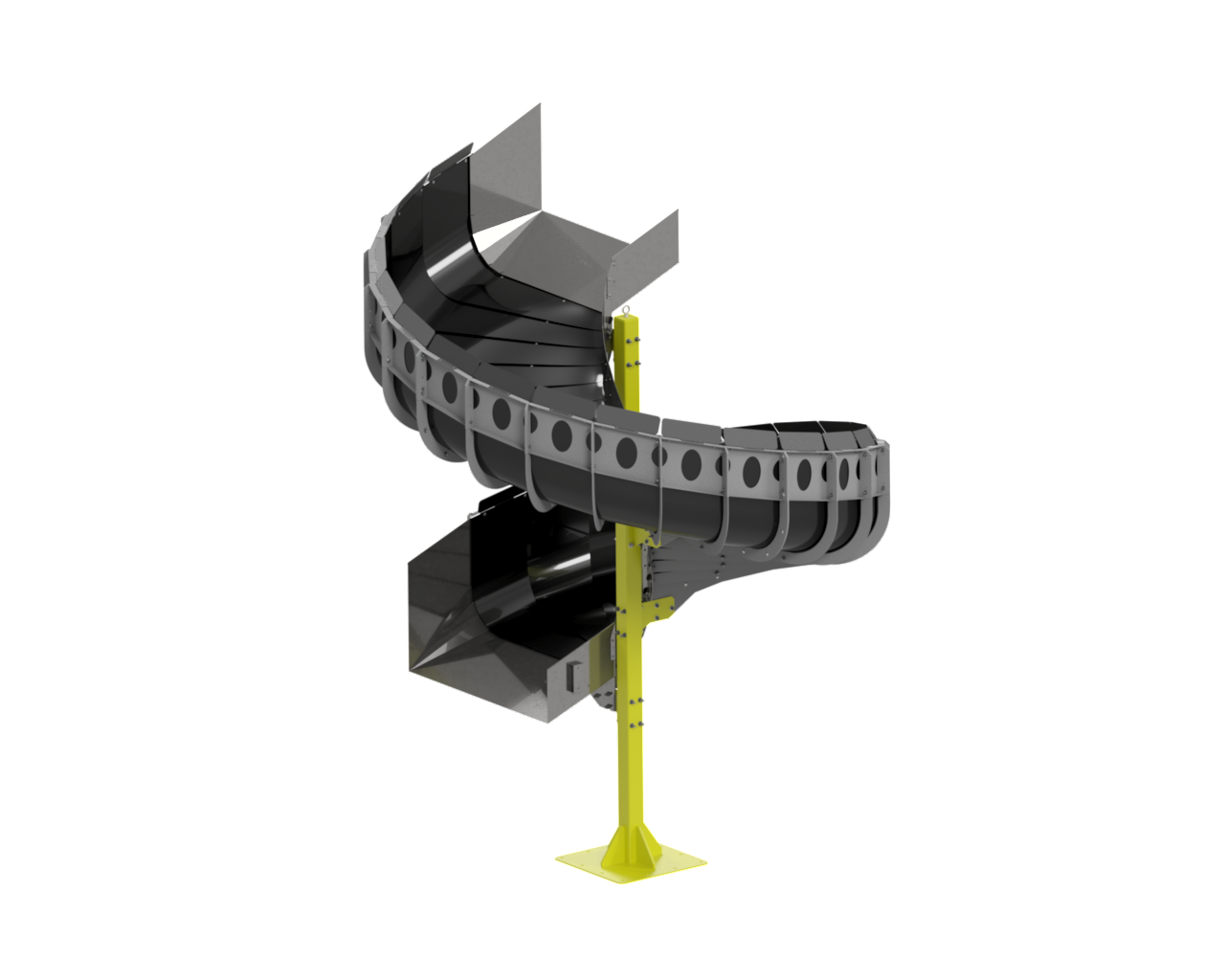 Customizable Modular Design
Proos' UHMW Spiral Chutes feature a customizable yet robust solution for flexible field adaptation. The modular design incorporates a variable-pitch spiral segmented into 90 degree sections around a center support to accommodate unique elevation and diversion requirements.
BENEFITS OF PROOS UHMW SPIRAL CHUTES
✔️ Customization: Modular design accommodates multiple pitches, widths, infeeds and discharges within the same system – field adjustable when needed.
✔️ Increased Throughput: UHMW surface that allows for smoother product flow – reducing jams while increasing production.
✔️ Space Savings: The low-friction, non-magnetic, and self-lubricating UHMW surface allows for shallow, self-starting angles while ensuring reliable and controlled product transfer.
✔️ Gravity Powered, Low Maintenance, Lightweight Material
• Streamlining Installation with Kitted Modular Spirals •
Proos was contracted to design, produce, and assist in the installation of 344 exit spiral chutes in a Greenfield fulfillment center under a highly constrained timeline. Proos took a highly active role in installation management via a data-driven deployment plan comprising:
• site inspections • installation contractor training sessions • development of detailed kitting drawings for staging and deployment • installation work instructions, and • regular site auditing.
All deployment work instructions were comprehensively designed for use without continuous oversight. Proos leveraged internal warehousing to maintain a steady-state production schedule to accommodate installation variability, resulting in a 100% on time delivery.